A Warranty is more than peace of mind.
It's Critical Protection!
If your livelihood depends on your truck, don't put your future at risk. A small investment in an extended service contract will provide you with years of benefits.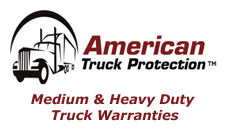 Avoid Catastrophic Breakdown Costs
Don't make a costly mistake and "hope" you won't have a break-down. An American Truck Protection Warranty can increase your truck's value while you protect your investment and your business.
Most Truckers are unaware that regular increases in the prices for parts and labor have made some of the most common repairs more costly than the price of a good warranty. That means you can buy a warranty for less than it costs for one, or multiple repair bills.
This is what you can expect to pay to repair these common problems:
Piston – $4500.00 – $15,000.00
Piston Ring – $3000.00 – $7500.00
Crankshaft – $6000.00 – $15,000.00
Camshaft – $2000.00 – $15,000.00
Cylinder Head – $4500.00 – $10,000.00
Oil Pump – $1000.00 – $10,000.00
Timing Gears – $2500.00 – $10,000.00
Reduce Financial Risks
In today's tough economic environment, the best way to mitigate some financial and business risks is to buy a warranty that provides protection from catastrophic repair costs. Large unexpected repair expenses can put undue pressures on your finances that can lead to insolvency, foreclosure or bankruptcy.
Avoid Catastrophic Breakdown Costs
A warranty has long-lasting benefits that can span the ownership of a truck and beyond. While you own the vehicle, a warranty provides you with peace of mind, and critical investment protection then, when you sell or trade, it can also provide a higher re-sale value. Truck warranties add so much value to an asset that NADA has publishes a dollar value for them.
24/7 Breakdown Assistance & Instant Claims Payments
If you experience a problem or a breakdown, you can contact American Truck Protection 24/7/365.
We'll handle all of the arrangements and tell you what immediate action to take. American Truck Protection will handle all of the paperwork and make payment directly to the repair facility within hours.
Nationwide Coverage
If you break down, American Truck Protection can access its network of over 3000 repair facilities nationwide to help you. You are virtually always within contact and near a service location with American Truck Protection. All you need to do is call us anytime.
One Low Deductible
American Truck Protection warranties have one low deductible. If a problem occurs that is covered under the terms of your protection plan from American Truck Protection, you pay only $100* per occurrence.

*subject to change
Claims
If you have a breakdown, Call American Truck Protection Claims first, we'll handle the rest! 
1-877-287-1511